If you're visiting Belfast, a Tour of the Local Street Art Scene is a must-do Activity. We sat down with Adam Turkington, OWNer of Seedhead Arts (the home OF Belfast's best Street Art Walking Tour) and Manager of the Hit North Street Art Festival, to Discover the stories behind some of his favourite pieces of city centre street art.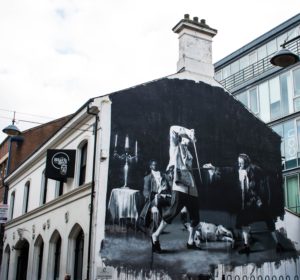 The Duel of Belfast: Dance by Candlelight – Conor Harrington (2012)
Commissioned by the Cathedral Quarter Arts Festival and probably to this day the most significant and iconic piece of street art in Belfast, I vividly remember it being painted in the rain before seeing an amazing YACHT gig in the Black Box. The Duel of Belfast is the perfect metaphor for Belfast's troubled past and irritating present. The scene is one of two men fighting over a carcass of a dead animal. So consumed are they with defeating each other in combat and claiming the worthless prize that they fail to see that the world is decaying around them. (The drips are not the result of the rain – it was painted in but absolutely part of the design).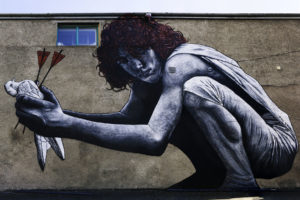 The Son of Protagoras – MTO (2014)
Another mural that comments on the NI conflict is this piece from the 2014 Hit the North Festival. Protagoras is commonly believed to be the first recorded agnostic; he wrote in 84BC 'As to the Gods, I have no means of knowing either that they exist or that they do not exist, or if they do." MTO was surprised on his arrival in Belfast to learn that we build walls to separate our communities and educate our children separately, and this piece is a direct response to seeing religion as the cause of our problems. The boy finds the stricken dove, killed by the twin arrows of religion and looks angrily at Belfast Cathedral which is just over the road. This piece is a particular favourite of mine not least because my son is the model.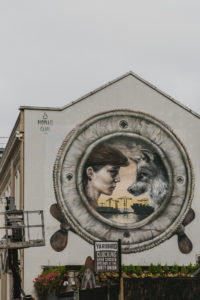 Still Waters – The Nomad Clan (2017)
Like all Nomad Clan work Still Waters is very much a story of the city in which it sits. It contains a nod to Belfast's ship-building heritage, its linen and its rope industry. As well as the wolf being on Belfast's shield, wolves were once an integral part of the Irish countryside and culture. The stance between the wolf & modern young woman is a subtle reference to the tensions during the troubles, a retrospective look & acknowledgement of past and present. Her proud heritage is reflected in a neck tattoo. Often Nomad Clan use androgynous characters in their murals, but in Belfast it was a deliberate choice to represent a queer female in a place that's banned gay marriage and struggles with women's rights.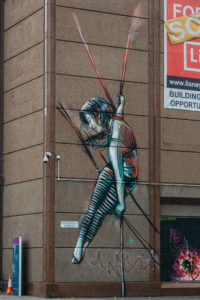 Untitled – Alice Pasqunini (2018)
This beautiful portrait of an acrobat is of particular significance to me because Alice chose to paint it at the festival following the loss of the Director of Belfast Circus School, Will Chamberlain, to cancer. Will was an inspirational voice for the arts community in Belfast, and his loss was particularly felt in the circus community, where he had been a figurehead for twenty years. Will had a great love for street art and, like us, saw it as very much connected with street theatre. In 2019 we changed the dates of Hit the North to fall on the same weekend at the festival that Will established, the Festival of Fools. Also, the new director of the Circus School is an amazing acrobat called Jenna, and when she got off the bus from the airport to relocate to Belfast this mural was the first thing she saw, and so the significance of this mural grew in our minds again.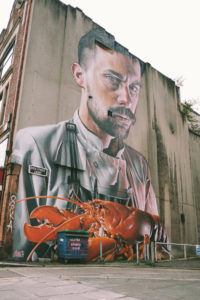 The Chef – Smug (2016)
One of my favourite things about street art is that because it's such a new art form, the standards are changing at such a rapid rate. Smug is without a doubt one of the most talented graffiti artists in the world at the minute – he's kind of world famous for his facial hair. When I take the tour I make sure people see up close the technique, the blending, the can control – it's quite incredible and Belfast is privileged to have such an amazing piece of work.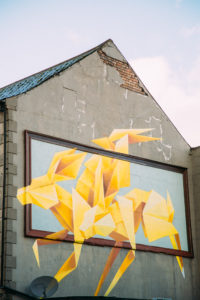 The Golden Hares of Rathlin Island – Annatomix (2018)
Former sound engineer Annatomix has become particularly well known for her large scale murals, distinctive polygonal animals and geometric patterns. The Irish hare is one of Europe's rarest animals and the only species of lagomorph native to Ireland. They're believed to have existed there since before the last ice age but their numbers are now in steady decline – initially due to a change in farming methods but more recently, due to hunting. Some of the historically largest colonies of these hares are in Northern Ireland. The group at Aldergrove near Belfast is in decline but in contrast, the strongest group thrives on Rathlin Island, off the north coast of Ulster. It's also home to a distinct genetic variation, exclusive to the island colony – the Rathlin 'golden hare'.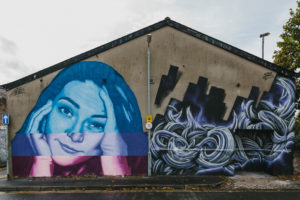 Untitled – Aches (2017)
Aches has quietly been making the most innovative and exciting street art in Ireland over the last few years. His work uses the intersection between technology and analogue street art to create pieces that look amazing on both screen and street, often in completely different ways. And no, it's not photoshop.

Forzan (Force) – Sancho MDN (2018)
Sancho is a young and supremely talented street artist from Cali in Colombia. Thanks to some investment from the British Council, Hit the North was able to organise an exchange with Graficalia Street Art Festival in Cali. Myself, Friz and Emic were able to visit that amazing city, and Sancho and his friend Visual (whose work can be seen just around the corner from this) were able to come to Belfast for Hit the North. As well as boasting the sort of colour palette only someone from South America would have the audacity to use, Sancho's work is drawn from mankind's relationship with nature. His work on the bird in this piece is unbelievable.

Night Forrest – Hicks 54 (2013)
A piece from our very first festival that has stood the test of time and remains one of the best-loved pieces of street art in the city. It has no deep meaning or fascinating story, but transforms this small corner on Royal Avenue into something beautiful. Essentially it does the thing that makes me love street art – it cheers me up when I see it.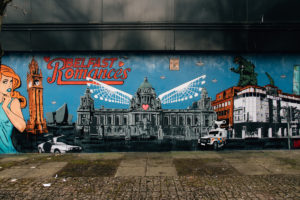 The Belfast Romantics – Leo Boyd (2019)
Commissioned by Bullitt and DC Tours this mural by Leo Boyd is everything you want from a Leo Boyd piece. I've kind of been a bit of a Leo Boyd fanboy since I first came across his print of Godzilla trashing Belfast many years ago. His fascination with pop art, B movies and Belfast architecture all approached with Leo's very particular brand of humour. What I love about Leo's work is how he shines a light on the absurdities of Belfast as someone who wasn't raised here but has chosen to live here. Leo's Belfast is a fucked up playground, with overblown monsters with lasers coming out of their eyes and wind up riot vans. What is this mad, dangerous, day-go, car crash of a city? It's the Belfast that we love.