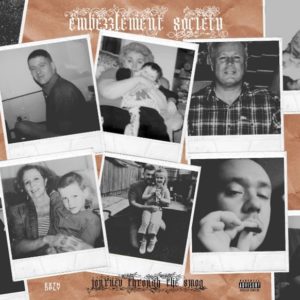 On Saturday 25th March, Bullitt teams up with Extended Play and Neighbourhood to host an all-vinyl party with Embezzlement Society (Steven Mahon), one of Northern Ireland's most singular (and under-appreciated!) house music producers.
We initially asked Steven to list 5 tracks or albums that inspired his beautiful, soul-drenched recent album 'Journey Through the Smog' with a sentence or two about each.
Instead, he provided us with a detailed, personal take on the joys of digging in dusty attics; his on-off relationship with alcohol; the positive feelings that come from listening to Pete Rock; and ultimately, stepping up for his daughter and getting high on life (and Shalamar).
You can read Steven's track-by-track thoughts and selections below, and can you listen to and buy the album on Timmy Stewart's fine Extended Play label over here.
We love the record – it's house music that is rich and soulful and surprising and timeless.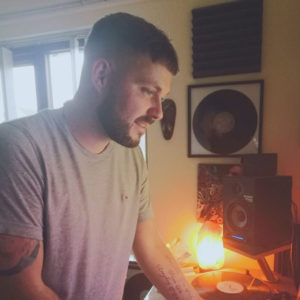 Here's the man himself, brilliantly, on how it all came together…
"Right, so the lowdown/longdown on the album is kinda hard to keep to a short story. Try and not talk as much bollocks as I can.
The whole project was a concept that I had come up with God knows how many years ago – I was probably kegged when I came up with it, but all I remember was grabbing a jotter and starting to scribble down a lot of thoughts. Around that time I was back and forth on and off drink, and couldn't dig myself out of a hole – so I decided to kinda use music as a way of expressing my emotions when drunk, sober, tipsy, hungover – whatever, I dunno.
At the time I was listening to a lot of old jazz records and in-between some kinda dark music – lots of underground hip-hop and trip-hop and stuff like that. But I knew I wanted to make something that when glued together came out sounding like one piece of work, and not just a bunch of 120bpm house tracks. I wanted like an 'Astral Weeks' or a 'White Ladder'.
So, after digging though countless 20p second-hand jazz records and random stuff that was in my loft, I stumbled across a Christy Moore LP that had a skit of him talking about fighting his demons with drink, and the whole idea started to take off from there.
It was never intended for 'Poitín' to be the first track, it was just a skit that I had messed about with and added some dreamy piano keys to, and somehow when I sent Timmy the tracks, he just stuck with the idea of having it as the opener. As usual he hit the nail on the head, because it explains the start of 'The Journey…' I suppose.
The track 'Downhearted' came together pretty easy. It was a drunken night in the studio, but I remember it as clear as day. I had an old blues LP from B.B King on it, I think it's called 'Blues In My Heart' – it was dusty as fuck and warped, I couldn't even read the track list. Great album for a drunken mess tbh, it was beat up bad from laying in the attic. But anyway, I remember one song he sang "I've been downhearted baby, ever since the day we met" and straight away I was thinking right, this is gonna be the opening track because it was a way of getting shit off my chest but using his voice – basically me speaking to drink and a few other issues I was dealing with at the time. Really good album that one – B.B King, legend!
'Indigo' was a more recent track that I made maybe two years after I had shelved the project about 30 times but kept coming back to it – this was when I had got sober and decided that I knew exactly where the album was headed, and what I needed to do with the music to make it tell a story without anyone having to listen to me gurning on a mic.
'Downhearted', it's basically a comedown track and 'Indigo' is a hair of the dog track where I'm in a state of ecstasy from alcohol, so it needed to be upbeat. And I always wanted the whole album to have a jazzy tone to it, so I knew I needed something from Joe Sample for those keys – I knew he played keys for a lot of The Crusaders stuff too, so this track was inspired from an LP from 1982 called 'Royal Jam'. It's a collaboration between The Crusaders, B.B King & The Royal Philharmonic Orchestra – truly excellent stuff.
'Sax on the Boogie' was one of the very few tracks I produced during lockdown, again was all about trying to keep with that up-and-down feel that drink does to ya but keep it as jazzy as possible. In my eyes one of the best records I own is Grover Washington Jr's 'Feels So Good' LP from 75'… Part of my collection to help me unwind on a Sunday or if my head's just a bit buckled.

'Found the Way' was a mixture of inspiration and definitely created under the influence. I originally heard the Brazilian vocals on A Tribe Called Quest's 'Find A Way' track from their class 'Low End Theory' album, which everyone and their granny knows. But I was curious as to what the words translated to English actually meant, and found out it was:
"There in Copacabana that has
All the best, all the good
Acerola Juice with Apple
That comes from the tree, honey"
Again, this was just another way of speaking to drink, but it's kinda upbeat so still playing on the jazzy tip. But the curve ball was that it's in Brazilian. Anyway, 'Low End Theory' is an absolute top 10 album of all time for me, that's the initial inspiration here.
'Denial' is self-explanatory really on the lyrics or spoken word, but this is where the album takes a slightly more sinister edge – what I'm trying to capture here is that no matter what was discussed in in the song, it has gone out the window as the struggle with drink continues. Inspired by listening to that mad head Richard Burton talk about his struggle with alcohol addiction.
'Casual Embraces', the lyrics to this are from another splendid album 'Diamond In The Rough' by Syl Johnson, the vocals are again speaking to drink:
"Casual embraces we used to give
Now somehow praying a trace of thrill
Those friendly smiles, we cast before
Now have a taste of a little bit more
Could I be falling in love with you
Could I be falling in love with you
Could I be falling in love with you, baby
Could I be falling in love with you
Casual embraces we used to give
Now somehow praying a trace of thrill."
Meaning that even after talking about denial and not knowing if I was actually sure about being an alcoholic, I'm still dabbling away with the drink having casual embraces and chasing thrills, cause it's all I know. Now it's beginning to become a real problem.
'Lost Souls' was initially a song I thought I was kinda going too far with but ended up probably being my personal favourite on the album. God bless Hamilton Bohannon, this track was heavily inspired by the album 'Stop & Go' by Bohannon from 1973.
"Heavenly father please forgive us, heavenly please forgive us,
save the people, save the people, save the people,
save their souls."
It's coming to a head now, turning to God (which I did), asking for help to get out of a terrible situation. Also knowing that so many more people were in the same position, which leads on the next track perfectly in my opinion.
'Keep On Steppin' was a track that kinda said 'look it's time to step up and be a man'. I had just got contact with my daughter, not long before making this. I remember the warm strings on 'Step Up' by INI from the 'Center of Attention' album by Pete Rock – fucking classic. Again, I distinctly remember feeling like a 'new day' kinda thing from those strings, so that along with the 'step up' vocals makes it feel like 'a new day a new dawn' feeling.

'Sweet Tears' was again talking to alcohol – a bye bye, adiós! I'm the one that's grieving! It's a classic but if you don't know it then it's a well-known track by the great Roy Ayers from his 1978 album called 'Let's Do It'. MAW covered it too, but Roy is Roy, nobody is like Roy, end of.
"Sweet tears just keep falling from your eyes
That's the only trouble with goodbyes
Sweet tears just keep falling from your eyes
That's the only trouble with goodbyes
Please don't ask me why
Baby, though I'm leaving, don't you cry
I'm the one that's grieving, you know why
Love is like a wild bird you can't tie
Free to stay forever or to fly."
This song probably fits the album so perfectly in the fact that it leads from that grey area in the middle of the album, which is actually interesting due to grey matter in the brain which I've read a lot about. (Alcohol Use Disorder (AUD) is associated with reductions in grey matter (GM) volume which can lead to changes in numerous brain functions.)
I also think it sits at the exact area where it should on the album due to the fact it's saying, 'I'm leaving'. It's essentially a love song about leaving which lead on to the two songs about my daughter and being clear headed, eventually.

'If This World Were Mine' is a track where I tried to stamp my own kinda Embezzlement sound on a lot. It's me speaking to Holly basically, only through the Greatest Male Voice in Music: Mr Marvin Gaye. I had this laying around on a 7" single. Classic Motown music.
"If this world were mine, I'd place at your feet
All that I own; you've been so good to me
If this world were mine
If this world were mine, I'd place at your feet
All that I own; you've been so good to me
If this world were mine
I'd give you the flowers, the birds and the bees
If this world were mine, that would be all I need
If this world were mine, I'd place at your feet
All that I own; you've been so good to me
If this world were mine, that would be all I need."
The words are supposed to be the true feeling of elation and raw emotion of how it feels to have something that you've always wanted, and now you've finally got her. And you're clean and the world is so clear you just feel like saying that you'd literally drop everything and do everything for the thing you treasure most in the world. The thing you've fought for four full years just to see. Total Embezzlement sound about this one, just feels perfect to be the penultimate track.
'Holly's Song' was one that kinda came about a bit oddly, I was laying chilling out finally off everything and just digging through some stuff and was listening to the album 'Uptown Festival' by Shalamar and my daughter walked in and started dancing. I whipped up my own edit of the track she was dancing to, and again only for Timmy's input I wouldn't even have thought to put it at the end, but it's works perfectly. Fair play to his lugs – man knows.
"People wonder why I can smile all day
Don't let your life in all its beauty
Pass you by
Get high on life
Get high on life
Get high on life
Get high on life."
To be honest there's not much more to say, it's hard to describe this one. At the end of the day, it's what the whole album is about and why the concept came together as even a thing.
So much for not talking bollocks.
In Loving Memory of Joseph 'Notorious' Kelly.'