On Sat 26 Nov, good friends Kaidi Tatham (First Word Records, Bugz in the Attic) and Kwame Daniels (Bounce Culture, Inna Rhythm) pack their legendary record bags and take over the Bullitt courtyard.
Before then, Bullitt's Jonny Carberry caught up with Kwame to chat about creative projects, family life, radio pursuits, and open-minded club nights in London, Derry, Belfast and beyond…
Kwame! Big thank you for taking the time to do this – especially as you've just had your second child 😊 How is family life? Has having children changed how you listen to music? I find myself digging for tunes on walks to the shop, or very late at night, or when I should be watching the kids in the bath…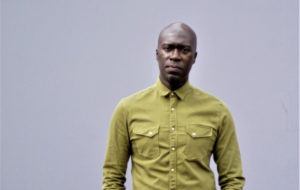 Yes Jonny! Family life is good. Having the second little'un at the beginning of September definitely changes the dynamic for sure – in the sense that you've only got a finite time to be digging for tunes. When you dig for tunes and how long you dedicate to that – you just make sure that you use that time wisely, you know? And you almost go deeper into the dig if that makes sense.
For me it's definitely late at night or it's in between the day job. It might be at a lunchtime or something and suddenly I'm like 'right', and then I get into it and I'm going through the vinyl, thinking about things that might be available on Bandcamp or something like that, and then suddenly I'm down the 36 chambers of tunes.
It's also whenever the gig is closing in and I'm really getting into what the night's going to feel like, and I get a sense of the direction I want it to go. I tend to be a little more last minute these days cos there's so much else going on…
But yeah family life is wicked, I'm loving it – blessed to bringing up the two boys Sonny and Jesse.
You and your mate Steve from Sweden kindly popped by when we were doing an instore in Never Never recently, and we had a really nice chat about some of the club nights you lads went to in London. Can you tell us more about when you really got into music and DJing? Some of the sounds and formative nights from that time? Did I see a class photo of you DJing at 93 Feet East in the early 2000s when Shoreditch was starting to become an important place for music and culture? I have to admit I had an ironic mullet, wore Evisu and read Sleazenation every month. I stopped just short of the James Lavelle 'Hoxton fin' but that's only because I have curly hair!  
I've always been into music, music has always surrounded me – from my dad collecting vinyl and just always seeing vinyl as almost part of the furniture in the house. To always having record decks, record players – again from my dad and going to uncles and aunties and family gatherings. Music and food were the two things that were central to everything. Coming from the African and Ghanaian culture, and then immersed in London – you know you had no choice but to be into music.
But the DJing thing was really an accident – I've always loved the idea of it, I always tried to create mixes between my record deck and tape deck from the ages of like 12, 13. But actually DJing, it wasn't like I had the intention to get into it…
I was essentially DJing at a friend of mine's party for 10 minutes when I was living in Derry, in Sandino's bar. The manager of the bar at the time basically said 'Look we really liked the tunes you played, would you like to start a night?'. But that only came through the grapevine cos I disappeared to London for a couple of weeks after I played that original set (well I call it that, but it was 4 or 5 tunes). And this was pre-mobiles and that sort of thing. So whenever I came back I was told 'look they really want you to start a night'.
So I borrowed the equipment, I had a bit of vinyl, some CDs – and it was only when I started the night and I realised maybe the potential of it, that's when I taught myself how to mix. But I was always into tunes. The big game changer was CD decks – whenever they came out, I realised I could mix my library of CDs with my vinyl, and that really enthused me in terms of wanting to mix and present music in a different way.
Master tempo, wow! Master tempo was the magic button. Being able to manipulate the speed of a track, and suddenly I'm mixing in boogie and funk and soul into like a sort of a house tune or a broken beat tune, that really got me enthused and got the juices flowing. That's when I really got into DJing and that was 2000, something like that. So I taught myself how to mix, and it took my night with Bounce onto that next level. It was wicked playing tunes, but it was amazing being able to present different genres of music as a continuous performance, as a continuous mix – that's when it really changed for me and I really saw the effect of programming and compiling and putting sets together in that way, I'm like 'yeah, I'm really into this'.
But yeah London, believe it or not I had London at my mercy up until the age of 23 or something like that, but it was all about collecting music at that point for me, I never actually DJd out – maybe at friends' parties now and again. But it was literally just 'yeah Kwa put that tune on' from my collection, which I did. We had a listen, had a dance and that was it.
So the actual act of putting a set together and performing in front of people, that didn't happen until 1999, whenever I did move to Derry. Well I moved to Derry in 97 but 99 was when it all started. And yeah, I loved it and essentially, I turned my hobby into my business and I haven't really looked back, but it's still very much a hobby and a definite pleasure for sure. And I love it as much as I did 20-odd years ago.
And yeah it was wicked popping in to Never Never with one of my best mates Steve – we did the whole thing as teenagers, clubbing in London. We were more into the rare groove, hip-hop, new  jack swing scene, and then when house started to take over I wasn't a massive fan at the start, but I just went along cos all my mates were going. But then the beauty of that was we were going to a different type of club each week – so you might be going to more of a house vibe one day of the week, another day of the week it was a rare groove, another day of the week it was hip-hop, another day of the week it was new jack swing. And then you'd have other ones you'd go to, could be like Iceni on Wardour St, 3 floors, different types of music from jungle to rare groove to jazz and that, I mean we really cut our teeth on what was one of the best scenes in the world at that time…
So let's talk more about Derry and Belfast. I know you came to Derry for a music production course back in the day. What were those early years in Derry like and what made you move to Belfast? Tell us about the beginnings of Bounce Culture (shout out The Menagerie!) and what Bounce represents.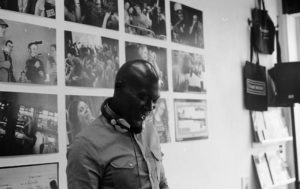 Aw yeah the early days in Derry were… in terms of starting a night it was unreal in terms of just how it was received, you know. And at that time I was literally sitting up decks, sitting down, it was everything from gospel, soul… but when I realised 'oh people are getting into this', that's when I started to up the ante and be like 'ok can I get in there with a bit of highlife, with some real broken beat-y stuff'. It was great to have a blank canvas for that sort of music and just sort of test the water and the reception was that positive that I was like 'yeah, I can really go somewhere with this'.
And those early years, it was anything-goes and it was just about vibes – you'd leave everything at the door and it's about dancing… And that's essentially how Bounce came to be, that's how the night came about, that's the name – the name is about an attitude, it's about 'right, you come in, you bounce in with positive vibes, you're bouncing out, there's no hassle, there's no division, there's nothing'. It's just about getting into the music and that music being that unifier, which it turned out to be. Sandino's was known as 'the gay bar of Derry', which was like 'ok, yeah course', so that kept a lot of idiots away which was great. And we just got involved and we got stuck in and we just had a boogie week in, week out. And our popularity just grew – it went from 130 people a week downstairs to queues round the corner, to converting the pool tables upstairs into a little club as well. And then we were doing more of the house, DnB – it was a bit harder upstairs. But downstairs we kept it the jazz, and the soul, and the boogie, and the hip-hop. So I think that was the success of it you know.
It really was a magic time, just after the Good Friday Agreement, and yeah… everyone was on the same page and you know what, it felt like a bit of a new dawn, a new era: let's just embrace and go with it. And there was a critical mass of people that were really willing to open heads and get involved with all different types of music on the same night. So I think I was very lucky in that respect – you know there were a lot of people who were on the same page as me at the time, and a lot of people that travelled into the city that got involved with the night. Shout out to the Donegal heads, the Belfast massive that came up as well, everything… Dublin. And that was reflected in the DJs and the bands that we got involved as the night went on as well. We'd be flying in bands from Australia, DJs from New York, London – and I think that helped attract that real sort of inter-cultural, cross-cultural audience. So yeah, it was a magic time.
And then the move to Belfast. I was thinking of moving back to London and then I met my now-wife, and I was like 'you know what yeah, let's give Belfast a go, let's go'. And my wife is a Derry woman, so it was like full circle – it all just made sense. And here we are, 12 years, 2 kids, marriage later – and we're all good, we're loving Belfast.
And in terms of Bounce and the beginnings of Bounce Culture, yeah The Menagerie was a big one – it opened those doors, it was the boys at Reset: David Baxter, Brian Greene, Conor Dougan/Defcon, it was all the boys who were running that night, and it was Luke who was managing it at the time. It was David Baxter who got in touch and was like 'Look, come down play some tunes at our night'. So I did and it seemed to go that well, they were like 'Do you want to start a night?'. So under the Bounce Culture umbrella, we started a night there called Barrio 54 – and that's when Mr Kaidi Tatham got involved.
What Barrio 54 and Bounce represent… it's about gatherings. Going back to my friend Steve and growing up clubbing… we always had these things most Saturdays, if we weren't going out we'd go round to each other's houses, and we'd call them 'gatherings'. And it was as simple as that: Bounce is about a gathering of open-minded people, that are willing to just get involved whatever music's presented. It's not about requests – or it can be – but essentially it's about trusting the DJ, trusting the band, and just really, really immersing yourself on what's on offer, and anything goes – and I think that's what Bounce is.
There's a thing of inner rhythm: essentially enabling you to connect with self-expression, happiness on a daily basis. That's what Bounce is about – it's about connecting with that inner rhythm and Bounce is hopefully that space to do that. And it manifests itself in dancing, chatting, getting on and just love on the dancefloor, simple.
I'm really, really pleased that you now have two series of Inna Rhythm under your belt on Radio Ulster – that's a huge achievement, congratulations. You play brilliant music, and I love that you talk about what each track means to you personally.  
Any time we've DJ'd together, I've made sure that a microphone is in reach haha. You are obviously – on the surface – a very charismatic and confident guy. But what was it like moving from club DJing to hosting a radio show? What are the best parts of doing a radio show, and the most challenging? Are you coming for Gilles P? 🙂  
Moving from club DJing to broadcasting – yeah I might come across as a confident guy and so on and so forth, and it's not that I'm not, but there is an aspect to me that it is an introvert. So in a sense my ideal is being in a club or in a bar that's low lit, one light in the corner with me DJing, enough to see my mixer and that's it, the rest could be in darkness. For me, it's all about the tunes. So essentially the absolute antithesis and the polar opposite of that is broadcasting, and it felt like it took me a while and I still believe I'm very early days.
So it's one thing DJing and performing in that sense; it's another thing talking about that in a coherent way to an audience on radio. That's a totally different skill, so marrying those two skills… I'm hopefully really looking forward to honing my craft on that and learning and moving forward. You know I can DJ whenever – drop of a hat I'm there. But in terms of broadcasting and talking about it and speaking coherently about it, I've got a lot to learn. And so far it's been pre-records, and one that's gone out as live in terms of the shows. Hopefully we're looking to do more live shows, and in that sense then it's a totally different beast.
When it comes to the best parts of the radio show, for me it's a real privilege being asked to share tunes that you love and to talk about them. I mean that's unbelievable. We all go back to people's houses and put on tunes, and you just talk about music. To be asked to do that, and get paid for it, and then to receive the feedback that I have received has been amazing, it really, really has.
The challenge then is being able to speak coherently about the music that I love. Because I'm so passionate about it and really want to get across the best aspects of that music and be as informative as possible. But I wanna be clear about that and I wanna do every tune that I pick, and every artist or producer or label, I wanna do it all justice. So in that respect I put pressure on myself to be the best that it can be because the music does mean so much to me.
Also, allocating the time – there's a lot of time that goes into putting together a show, and the earlier ones were pre-records – even that, it's a lot. And then the live shows, going in beforehand and the prep for it – you're always 'on', you always wanna be 'on', because you always wanna be catching what's coming through as well as digging back to pull out those nuggets that you'd maybe even forgotten about in your record collection. You never switch off – it's challenging but I love it at the same time, cos hopefully it means that I'm putting my best foot forward each time.
So yeah haha, am I coming for Gilles? He's a massive influence, he's huge. Him, Trevor Nelson back in the day, Ronnie Herels, Fabio and Grooverider, all these pirate radio heads that, although I didn't realise it at the time, have really shaped my love of music but also how I talk about music. But no, not coming for Gilles, as much as he's a massive influence. The bigger influences are the artists and the producers and the labels that essentially shape my being, it terms of I love it so much, And a lot of the messages in the music I play are very much life-affirming, positive messages I like to think.
 Let's talk a little about club DJing. You don't play out a huge amount – that's why I'm really pleased you're playing Bullitt, and our (culture) nights in the Courtyard have always been special. Is it a conscious choice not to DJ out too much? Or do you find that there are still restrictions in Belfast for the type of music you really want to play?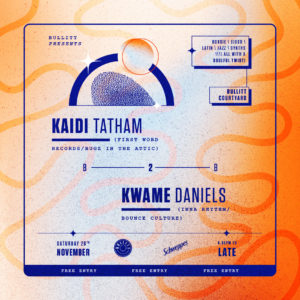 What a great question. Yeah I mean personally I've always had wicked nights with Bullitt in the courtyard, and I do love it. But no I don't play out as much – I think I've been playing out for so long, and now with a family you have to be quite selective in what you give up your time for. I think that's really important – if I'm going to be away from my wife and my sons, what am I going out for? And I have to know that I'm really going to enjoy it.
I think there are more and more opportunities to really dig deep into the sort of music that I like and share that and for it to be an enjoyable experience. It wasn't always the case – there are other places that maybe do want to hear more mainstream, poppy stuff which is wicked, it's just not me. So if that's the case, better finding a DJ that will do that, will take the requests, will do that – I'm not really into that side of things, I'd rather people just trust it, that we take you on the overused word the 'journey', where you might not have expected to go, and hear tunes that you might not have heard before. But for me, it's all about that adventure and discovery and new stuff, or older stuff you haven't heard of, or artists that you know of, but suddenly it's like 'Oh who did that? It's Chaka Khan? No way, I didn't know…'. Those familiar artists but with unfamiliar tunes – I love being able to present that to audiences.
I think one part of why I don't DJ out as much, it just has to be the right thing, and Bullitt is definitely the right thing for sure.
Are there restrictions in Belfast..? Definitely more and more opportunity, but there's only a certain amount of people that would be open for the likes of myself of Kaidi to play. And maybe also because there's such a small cohort of us, then you don't want to see the same names always coming up. I understand that promoters want to spread that love and so it might only be two or three times a year that you play out and I'm happy with that, there are other cities I can go and play in, there's other ways that I can share the music – I'm lucky to have the radio show as well. I'm lucky enough that my job and my business allow me to express that love of music in other ways, be it through education, be it through different programmes and projects I'm producing or designing, or consultancy for events, do you know what I mean? I'm lucky in that respect, so I can diversify the opportunity which is wicked.
What about your day-to-day – can you fill us in on what a typical day is like for someone working in the music side of the arts in Belfast? Are there any past or upcoming projects you would like to shout out?  
Ha, my day-to-day… I've got the not-for-profit organisation which is Bounce Culture, so that's more about designing projects and programmes that are more about mainstream alternative education. My own business is more on the consultancy side of things. So the day-to-day is anything from tendering to projects; to general administration across Bounce; leading the team on different projects; producing projects;that's my day-to-day: maintaining those relationships, looking for those opportunities, or following through with projects to make sure they're the best that they can be. So that's that, and I'm lucky in that a lot of that brings me back to my music. I'm very lucky in that respect, y'know?
Over the last couple of years I maybe haven't been on social media as much or playing out, because the projects that I've had have been quite intense, they've been amazing. I'm just coming to the tail end of one that was with BBC, Belfast City Council, and essentially the Lord Mayor's office awarded the freedom of the city to frontline workers – so rather than it just be a very important ceremony, the ambition was for the whole thing to be a participative programme, whereby we included the very groups that enabled our community to keep going during some of the toughest time in recent history. So we engaged with six groups within the community and we engaged with story gatherers, oral history experts, for those groups to share their stories and experiences of covid and lockdown in a safe way. And then we brought in music facilitators, and they turned those accounts and stories into lyrics, and those groups then wrote and composed songs with those music facilitators.
One of those groups, which was an amazing artist called Ferna and Open Arts choir, performed with the Belfast Health Trust, and that was one of the centrepieces within the Freedom of the City ceremony, which took place in the Waterfront in late August, was televised by BBC and went on radio and that. So our groups were represented there, and we've literally just a couple of day ago had a gathering for all the groups to come and perform all their tracks live and it basically made up the finale at the Sound of Belfast festival which was overseen by Oh Yeah!, they put that together it was brilliant. We tracked and recorded that as well.
And we've also brought all those groups into the studio at Half Bap Recordings, and we got a guy James Hamilton to remix those songs. So not only have we got the output of the live performance, we've got a double cd that's going to be coming out and we've got a 30/40 minute documentary that's going to be coming out that oversees the whole project. So that's been the one that's been taking up a lot of time. And I've been doing bits of consultancy work in between, there's a creative schools project, which is Educational Authority, Urban Villages, Arts Council – been brilliant, across schools in Derry and Belfast. So that's Bounce Culture involved in that. There's So-Lab, I'm not going to say too much about that… but stay close.
Finally, you are playing back-to-back with your good friend Kaidi Tatham on the 26th. I'm listening to Kaidi's recent show with Mr Scruff (https://soundcloud.com/hiddenagendaclub/mr-scruff-kaidi-tatham-at-the-big-romance-dublin) as I type this and it is a varied, soulful, melodic joy.  
Can you tell us about how you and Kaidi met and what your relationship is like now? I think you once said to me that he was your go-to guy 🙂 What can we expect on the night? Thank you again for the chat, buzzing to hear you play together!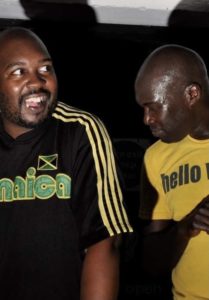 Haha, I actually met Kaidi through his music, through his records – I was fanboying! Literally anything he was releasing at the time I first heard of him, I was like 'this is the music I've been waiting for'. All the scenes that I was into in terms of the rare groove, the jazz-funk, the boogie, the soul, the hip-hop, the Latin, the highlife, the Afrobeat, everything – it was all in this music know as broken beat, which Kaidi was an absolute pioneer of, along with IG Culture. But Kaidi was front and centre in terms of the compositions, which were ridiculous.
So I'd heard of him, and at the time I was back and forth to London and I would go a night called Jazz re:freshed (shout out Jazz re:freshed). I would go and see him down there along with other amazing artists, everything from Azymuth to Vanessa Freeman. So when I saw him live it was just like 'oh my God'. But at the time I didn't know him…
Then I went to see him when he was part of the trio DKD, which was with him, Daz-I-Kue and Dego, and it was at a friend of mine's bar Cargo in London, it was at that gig where I built up the dutch courage and managed to get backstage and I got chatting to him and was like 'Kaidi, i) massive fan of your music and ii) I'm gonna bring you over to Derry' cos I was living in Derry at the time. He was probably like 'Who's this boy slobberin'?', but I did – a year later, got him and his band over. It was an amazing line-up including Akwasi Mensah, Finn Peters, Matt Lorde, ridiculous. It was for the jazz festival in Derry and they absolutely ripped it up.
And from then we sort of stayed in touch, but then one time I got this voice message saying 'Yeah yeah bruv, I'm here' and I was like 'What's he mean, he's here?'. He was then off touring, but I managed to get in touch and when he said 'Belfast' and I said 'You're lying', because I was in Belfast too. So I arrange a hook up, and funnily enough when I arranged a hook up with him, I was also meeting an amazing Belfast-based drummer David Little. I was also in touch with my now-wife Donna online, she was involved in an amazing community organisation called Beyond Skin. She was like 'I know you're involved in the community sector, just want to pick your brain about a couple of things'. So I invited Donna along to meet the boys and that ended up essentially being our first date. So Kaidi Tatham and David Little were on my first date with my now-wife haha.
Kaidi was my go-to guy for tunes and he still is: he's knocking it out of the park, isn't he? The work ethic and the consistency is legendary status.
On the night what can you expect? Aw man – I don't know, cos we don't know what to expect. I speak for me, but we've played together enough times, and what I know is that we bring a bag of tunes and we put them together and we make it work and we play from our heart and we look up and we just go with the response. There'll be some familiar tunes in there, but also it's about opening the mind and just seeing where it goes. It's gonna go along the boogie lines, there'll be some nuggets in there, there'll be some freshness in there, there'll be some dubplates in there, it's all gonna be from the hearts, for the feet. So come along with an open mind and we'll just have fun – simple!