Phil Ervine, a founding director of Taste and Tour NI, reveals his top five foodie products from Northern Ireland that will bring your BBQ to the next level!
Over recent years produce from Northern Ireland has garnered world-wide attention, and rightfully so. For a country with a population of 1.8 million our talented producers sure do make some incredible stuff – just look at the Great Taste Awards aka The Food Oscars and check out the number of Northern Irish winners and you'll see what I mean.
Northern Ireland may not always have the weather for cooking outdoors, but summer seems to have actually arrived (touch wood) so I'm all for getting outside and cooking whilst it's actually possible. I'm also a little BBQ obsessed these days and was given THREE sets of BBQ tools for my birthday… a bit over the top.
At home we may not all have the fire-power of the Asador Grill in Taylor and Clay, but that shouldn't stop us wheeling out our rusty BBQ or just digging a big hole in the ground to get cooking.
I've put together a list of five of my favourite local products that I keep on hand for when it's not pouring. This list is not exhaustive, and there's plenty more I use on a regular basis!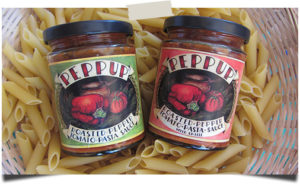 I absolutely detest traditional tomato ketchup in any form, and have done since I was a kid – there was a tomato ketchup incident in a diner in Portrush that still haunts me to this day. Then one magical day I discovered Peppup Roasted Pepper Tomato Ketchup at a tasting in Arcadia Deli and have been hooked ever since. Peppup was created by Luca Montorio whose Italian childhood inspired his creation and is made in Newtownards.
The ketchup is really versatile and is great as a dipping sauce, for marinating meats and it's cracking on a burger bun too! If you like a bit of heat there's a mild chilli ketchup as well.
In Belfast it's available to purchase in Arcadia Deli, Sawers and Studio Souk (just a 5 minute walk from Bullitt).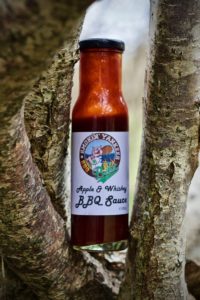 Smokin' Yankees Apple & Whiskey BBQ Sauce
I still hate most ketchup, but I have always loved BBQ sauce. The BBQ legends from Smokin' Yankees brought out this Apple & Whiskey BBQ Sauce and I use it constantly when barbequing. It's best used as a glaze to add to meat or vegetables near the end of a cook, as a sauce for your burger or my personal favourite BBQ ribs.
In Belfast it's available in Arcadia Deli and Sawers.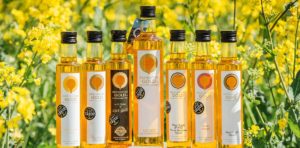 We've featured Broighter Gold Rapeseed Oils on our tours since we started five years ago and they're extremely popular with guests! Not a day goes by when I don't use one of their oils for cooking. Their range of Cold Pressed oils are made by Leona and Richard Kane in Limavady, and they've even created a special range for Liberty London on Regent Street.
Rapeseed Oil helps reduce cholesterol, contains Omega 3, 6, 9 and Vitamin E and most importantly for BBQing it has a much higher smoke point than Olive Oil meaning it's much better for cooking at high heats.
Below are a few of my favourites and how I use them for BBQ:
Original – great for grilling vegetables, marinating and salad dressings.
Garlic and Rosemary Infused – awesome for BBQ baked potatoes.
Thai Infused – ideal for Asian style marinades.
Lemon Infused – perfect for fish, marinating certain meats and salad dressings.
These are available to purchase in Sawers, Arcadia, Studio Souk and Sainsbury's.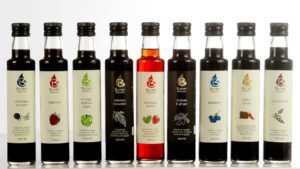 Another product that we love introducing to people on the Belfast Food Tour is Burren Balsamics. This range of infused balsamic vinegars was created by Susie Hamilton Stubber in Richhill, Armagh and features both light and dark balsamic vinegars. The Bramley Apple Infused Balsamic Vinegar makes a delicious salad dressing, and the Blackberry and Thyme Infused Balsamic Vinegar is the ideal marinate for lamb chops.
In Belfast these are available to purchase in Arcadia and Sawers, and available to order online.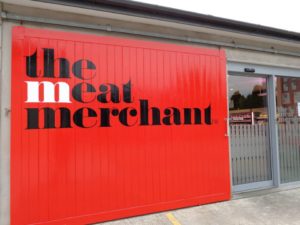 If you are a meat-eater and haven't taken a drive to The Meat Merchant in Moira, then stop what you're doing and GO! This meat mecca is my go-to spot for all meat for the BBQ and I tend to do a trip every couple of months and fill up the freezer. All the beef is Glenarm Shorthorn and their flat-iron steaks are great value and perfect for BBQ steak tacos. Hannan's was founded by Peter Hannan aka Meat Peter whose Instagram feed is definitely NSFV (Not Safe For Vegetarians) and they clean up at the Great Taste awards every year.
If you don't have time to make your own burgers, then their award-winning beef burgers are the way to go. They use a mix of chuck, brisket and rib meat which is ideal for cooking on the BBQ with the right fat content, and full on meaty flavour. If you do make a trip, then sorry in advance for all the money you'll spend.
Taste & Tour NI specialise in authentic local food and drink tours showcasing Northern Ireland's produce, places and people. Exclusively offering the renowned Belfast Food Tour, 'Meet The Brewer' Brewery Tour, Whiskey Walk and the Belfast Bar Tour, as well as bespoke private tours. Find out more here.