Sound Advice is Belfast's newest record shop, opening over East this September. Bullitt is also hosting a special pop-up and party on Bank Holiday Sunday, and our resident music man Jonny Carberry caught up with Sound Advice owner Marion Hawkes to find out more…
Marion! Huge congrats on the imminent opening of Sound Advice (wicked name btw). How are you feeling about it all at this exact moment?
Hey! Aw thank you, the name has gotten good feedback so I'm glad! It's always a hard one to pick something that really fits. Right now, I'm a mixture of antsy excitement and nervous energy – just waiting to get the shop open. The response and support I've received have been amazing so that's been spurring me on.
Can you tell us more about why you decided to open Sound Advice? I read that the pandemic gave you time to really reflect on your relationship with music, your career…
Yeah spot on, the pandemic forced us all to slow down and look at what we were doing in every aspect of life. As my main income was from DJing my calendar was completely cleared leaving a lot of free time. I know it's such a cliché but music really was a life saver, I got to listen and explore things beyond what I would normally revert to. The record shop was a natural progression, I had been toying with it for a while and the opportunity with Banana Block came along at the perfect time.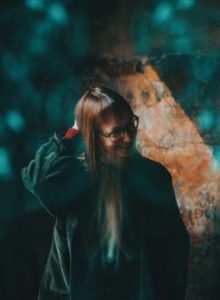 What about your personal relationship with records? What first got you into digging or collecting? And do you think there is a genuine, worldwide 'culture' that goes with record shops and records themselves?
I first started buying records in the mid 90's off the back of listening to dodgy happy hardcore mixtapes, late night radio and a chance purchase of Muzik magazine. From then on it developed into an obsession that I dipped in and out of for a few years but eventually that obsession came back stronger than ever.
Oh yes for sure, there are many different types of record shops now. They've almost had to reinvent themselves as more than offering just vinyl.
The shop will be based in a space called Banana Block in Portview Trade Centre, East Belfast. It's described as 'a living museum and event space – a place to celebrate astonishing histories and incredible futures' – exciting! Can you fill us in more on their aims? Also, creativity in East Belfast has recently been celebrated in a short film by the lads from The Night Institute, and a few working men's clubs have seen their walls reverberate to strange sounds over the last few years, not least from David Holmes. Why is the East culturally important now, and to you personally?
I can't give too much away about Banana Block as they are still in the process of pulling all their elements together, but what I will say is that it promises to be a really exciting space perhaps not seen here before, in line with what you might find in London, Berlin or Lisbon, it's got a very European progressive vibe.
The development of East has been happening steadily the past few years, as an East native it's been amazing to see. Having grown up in BT5 and witnessing the changes coming it's really exhilarating and makes me proud to be involved.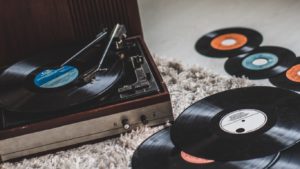 Record shops are often depicted as romantic places, where ears are opened and communities forged. Just this week I was reading about a young James Lavelle energising Honest Jon's; I found some old boxes of Rough Trade Counter Culture albums that helped form my mid-20s taste; and I reflected on my own relationship with record shops: it was in Backbeat that I first met my long – lost! – friend Mark, we bonded over electroclash, I went to see him DJ at the Menagerie, and we then went on to DJ together for many years. Do you think record shops can still be as influential in 2021, especially when there is so much online curation?
Haha I can see why some people would romanticise a record shop however the current record shop model is so different to when I first set foot in one – you have to supplement the in-store trade with online but still entice people in, let's face it you can find and purchase any record online. One of my favourite record stores in Europe is Rush Hour because they have got the balance right between online presence and in store experience, they have certainly helped influence how I want Sound Advice to operate.
One element that you can never replicate however, is the human interaction, the relationships built over the counter, a recommendation based off knowing your taste. They are meeting hubs for the likeminded and they will always be relevant.
I'm really chuffed you're doing what you're doing, but what would you say to those you think the vinyl 'revival' is having a negative impact on the environment? Also, what about those labels that are choosing digital, or cassettes, cds and even books (aya on Hyperdub) to mark a physical release?
There are so few pressing plants left and while they are extremely busy surely compared to say the 1970's it's a still fraction of the product. I agree environmentalism is a massive talking point at the moment and we all have a shared responsibility to lessen the impact, that's one of the reasons why second hand and pre-owned vinyl will be 60 percent of my stock at Sound Advice. Not all labels press records, it's a massive cost and the wait is insane. I think it's really clever that labels are exploring other products, it keeps it interesting.
Let's talk a little about DJing. Can you tell me some of your best experiences and a few of the difficult times you've had DJing over the years?
I've always had the best of times at Ponyhawke, a queer disco of sorts that I co-run with my good friend Dillon. The crowd, the atmosphere and energy all make it real firecracker of a night. Boiler Room at AVA too was an incredible experience, I felt totally overwhelmed by the occasion.
The flip side of that can be playing to a predominantly empty room, or that your set is falling flat. It's happened many times haha, it just is what it is.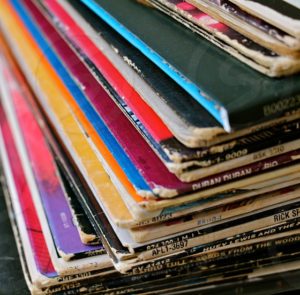 What about Belfast/NI specifically. I imagine doing a well-received Boiler Room for AVA helped you travel more as a DJ. How do other cities compare to Belfast? You do have broad and interesting taste (reflected in Sound Advice!) – can you express yourself fully at home?
Off the back of AVA I was picked up by an agency and the overseas gigs followed, it was a great experience but quite short-lived as the pandemic hit about 6 months after. I felt extremely lucky to be in that position finally, it's what I've strived toward since I started. The places I've been, Liverpool, Manchester, Glasgow, have all been very similar in the outlook to Belfast in general and with the crowd response. I don't know really, it can be a challenge jumping between styles and at times I think have I given myself an absolute headache in being so diverse?!
I'm not entirely sure as yet, but Sound Advice is about to give me that outlet for the range of music I've been enjoying for the past few years but not able to play out. So, this is an exciting chapter.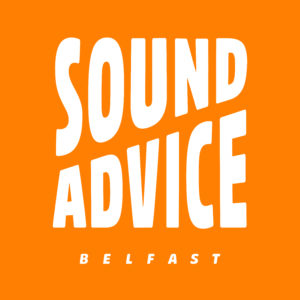 So, this weekend! We're launching a Sound Advice pop-up at Bullitt and you'll be playing on Sunday night in the lobby to celebrate. Have you played much post-lockdown? What is it about Bullitt that made you think 'yip that's a good match'? What can we expect at the pop-up? 🙂
Oh no not at all, I think I've played twice since and it's been mixed emotions. There is a lot of anxiety after not being able to gig for over a year and the old imposter syndrome loves to creep back in! I've played Bullitt before and really enjoyed the vibe, and playing alongside you JC, what a draw! You've curated some incredible gigs in the courtyard over the years and to bring something so niche to Belfast has taken big cahonies! On the night it'll be wall to wall left field slammers and disco oddities, maybe the odd jazz funk noodler and some silky outer national jams.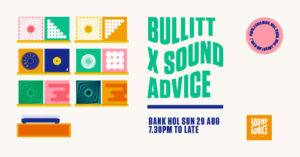 Ha, what a description – sounds amazing to us. And if it's your thing you can catch Marion spinning from around 7.30pm on Sunday 30th August. A small selection of Sound Advice records will be available to buy from our new pop-up in the Bullitt lobby as well. Keep an eye on @soundadvicebelfast for details of the official Banana Block opening.