Ahead of our courtyard collaboration with future-jazz hero Kaidi Tatham which took place on 20 Nov, Bullitt's Jonny Carberry caught up with Neighbourhood boss A.Cue to chat family dance-offs, diverse club nights, the role of design and much more… 
'All kinds of shapes for all kinds of tunes'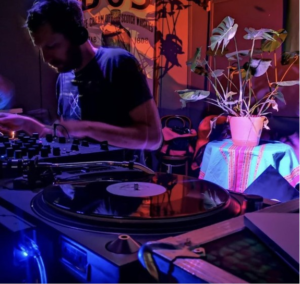 Andy, thank you for taking the time to chat. Especially as you've just recently become a dad for the second time – congrats! How has the last year or two been for your personally, and what role has music played in your recent family life?
Big couple of years for us, a new addition to the family and our firstborn starting 'big school', it's a busy household and lots to keep on top of. We also got married in the middle of all the madness. I also took on a few new projects, just to really push the limits of my capacity and keep my toes hot. I started doing a show on DDR which allows me to play around with some of the ambient records I have and create narrative lead soundscapes, and a show Subtle Radio, which is more of a straight-up rave session once a month mostly focused on bass. But, you ask a great question, as it points to a lack of time spent listening to tunes as a family of late. Our older pup has started to get into music and dancing. He took a notable upswing for it on a caravan trip. He is into 'Rock' and the 'Jaws' theme tune but you can pretty much throw anything at a 4 and half-year-old and they get down. We need to make much more of an effort to get the ole dance mat out, as there has been some pretty mean lockdown dance-offs in our living room.
Before we talk about Neighbourhood, let's rewind – when and why did you start DJing and running club nights? Can you tell us some of your favourite club moments, or any particular challenges? What makes a good night for you?
My first DJ set was at Homespun, I was mostly there for the dancing, pulling unparalleled moves and sweating like a hog. There was always such a good mix of people at those nights and the tunes never disappointed. It was a night that truly promoted a diverse sound throughout the night and after Vicos had closed, I felt it was the only place you could get that. Anything goes at a Homespun gig: dub, hip hop, house, techno and jungle, but always done well and changing gears when it was needed. Anyway, those nights along with some of the drum n bass nights got me into hustling up a few records and annoying my housemate to use her turntables until I got a set. In the meantime, I was doing the posters for Homespun and kicking my legs around the room until Chuck asked me to warm up for one of the nights.
The Black Box opened, and I hassled them until I was let play tunes in the front room. We did a pot of grub to feed people that came down, that was 15years ago, and it was the start of Rudimentary Records. Rory arrived down that night unexpected, and as I had no real idea what I was at, I was glad he did. From there we started playing more regularly and booking acts in different venues. We had Mungo's Hi-Fi in the old Deer's Head, Martyn in the Front Page, Scuba in The Menagerie, Shackleton and Deadelus in the Black Box, Shigeto on the Barge and my favourite might would have to be Mark Pritchard in the basement of McHugh's. Lots of great moments from all those sessions and a great feeling of pride when you get it right. Of course, you don't win them all, but I'll always have the image of Mark Pritchard and Stu Watson sharing a sip of Buckfast after the dance in our kitchen.
Anyway, a good night? Is built with warmth, good sound, and the right kind of heads ready to cut loose.
You've been running Rudimentary Records for over 10 years now – respect! Can you tell us about a few of the records you've released? What's it like running a label in 2021?
Rudimentary Records has had some pretty amazing releases in my eyes. We never really settled on a sound from the start, which is probably a bad way to start a record label. But we didn't really start as a label, it slowly unfolded out of some of the nights we had done. The releases have been varied in format and in style – we have some lo-fi beat-driven focus in the early releases, from Roughquest, Hekkla, T-woc, Ken & Ryu and Future Cruiser. Then we put out a 12" from New York producer Enoe, which is more of a low-end house vibe with garage influences and from that we flipped into some sci-fi dubbed out Danny Scrilla business. Bass Clef was someone we had booked a number of times, and it was an honour to release a couple of his tracks too, which are total left field bangers – a Boomkat review referred to one of the tracks as an "alien techno deviation".
We went on to release an album of work by t-woc, this one being a concept album built around a Brazilian science textbook he found while digging in Sao Paulo. It's beat-heavy, sample happy and synth-lead vibes. More recently we have put out more bass focused treats with a jungle and half-time session from Itoa and Crypticz and a really impressive set of tunes from G3. His EP Koriko is really something, with some amazing remixes, I think there will be a lot more to come from him in the future. Fono One and Yoru both released tunes at the very beginning, 11 years again, so it's been nice to loop back around now with their two recent EP's.
The label in 2021 hasn't changed too much for me, physical releases have slowed up, but we have never been in any rush. It's a labour of love and it will stay that way for a while. We are learning as we go, and we try to get things sounding right rather than rush it out.
You also work as a graphic designer, isn't that right? Who or what are your current design inspirations? Is artwork still a key factor to a record or club night's 'success'? What bearing does social media have on your work?
I was a graphic designer, however, I think my role has changed a number of times now. I'm currently a partner at an animation studio. So, yes I did study and work as a graphic designer, but after wearing so many hats in the industry I'm pretty sure I can't claim to be a graphic designer anymore. A lot of my time is spent on directing projects from a creative standpoint. Although, we are a small studio so I'm still very hands-on. The record label is sometimes the only time I get to think like a graphic designer in the true sense of that role. I really love that side of the label work and have done a lot of the artwork for the releases. It's something I really enjoy, and I'm constantly looking for inspiration, although I usually find it in film, art and illustration, especially when humour insects it all. Big fan of David Shrigley, David O'Reilly and Eran Hilleli, all three of their work is stacked with wit.
So Neighbourhood! It started out as an irregular club night? You've hosted class people like Awesome Tapes from Africa. But recently you brought together a wide collection of local DJs for the online stream Neighbourhood Watch. Tell us more about that, and where you see Neighbourhood heading…
I like the word irregular, I was toying with calling the club irregular shapes at one stage. It was a reference to the shapes people might get themselves in on a regular basis in the Menagerie. All kinds of shapes for all kinds of tunes. However, what was more important was the idea of creating a bit of a community around the night. It was important to keep it open and bring in local talent as much as possible.
I had done a few pop-up radio stations in the past for CQAF and as it was impossible to do any gigs, I thought we could give this a go. It also met with my criteria of wanting to be open to new and unique music, create a community ethos and start conversations. It goes back to wanting to create something as diverse as the tunes I was hearing back when cutting shapes at the Homespun nights. I see more of this happening, perhaps keeping it as a pop-up experiment and bringing it to different areas across the city.
Lastly, the main man Kaidi Tatham! Buzzing that we can make this happen – what is it about Kaidi as a musician and a DJ that makes him stand out, or that you connect with? Can you give us 2 or 3 tracks as a taster for own warm-up set?
Kaidi is an insanely talented musician, music drops out of that fella. Just look at his back catalogue, man is a dynamo. He brings real energy and passion to his DJ sets which are non-stop funk infections. Whether he is on the mic, turntables or behind the keys, he will get revved up at no end.
As for warm-up duties, I'll keep it warm and bouncy, although we don't want anyone spilling their cocktails now do we! 😉 I could pick out a hundred tunes for you, but I'll dip into what is in the bag right now.
Warm-up vibes:
Save me – Kamaal Williams feat.Mach-Hommy

Going back to my roots (club Mix-re-edit by Mr.K) – Richie Havens

Space Coconut Conspiracy (Esa Remix) Azar Azar
https://azarfromspace.bandcamp.com/track/b3-space-coconut-conspiracy-esa-remix
Beautiful! Thanks Andy, see you on the 20th for a dance 🙂