Our Insider Guide to a city that has always been home to musical visionaries, boundary-pushers and game-changers…
Of the many things that it excels at, Belfast is (very deservedly) known around the globe as a musical city. From Van Morrison and Them to Stiff Little Fingers, David Holmes to Girls Names, Bicep to myriad artists, producers and DJs flying the flag for the city in 2019, we are home to the visionaries, the boundary-pushers and the game-changers.
At Bullitt, we are firmly of the opinion that Belfast – and every other musical city for that matter – is really only as good as the community and creative networks that underpins it. After all, one bar (or one band, producer or DJ) does not a city make. It's via a neighbourhood mentality that creative cities can thrive and Belfast is no exception to that rule. Venues must work together and promoters should be given the opportunity to spread their wings. Everything else works itself out.
Beyond heady clubs, rammed late-night spaces and the city's countless live music venues, Belfast's musical landscape is equally defined and sustained by annual festivals, as well as record shops, musical tours and a host of new music showcases. Combined – back-to-back and propelled by togetherness and forward-pushing spirit – we're worldbeaters. Music lover? Here's our handy guide to Belfast city.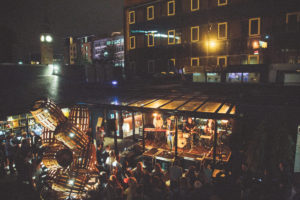 First thing's first: since opening our doors in 2016, we at Bullitt have been passionate about quality. It's something that has always been represented in our eclectic events calendar, whether it be live gigs, first-rate DJs or one-off events that cater for the in-between.
Whether you look to the shows we host as part of annual music showcase Output, our current free music night Platform, which hosts some of the country's finest bands or the always-excellent The Vinyl Lounge, in the company of DJ Ghost every Friday from 6pm-9pm, you will always find homegrown music stage front-and-centre at Bullitt.
Ulster Sports Club
Having re-launched earlier this year, the new (and vastly improved) Ulster Sports Club has wasted no time in becoming a bustling hub bursting with eclectic club nights and live gigs. To date, the new-look, three-storey complex on High Street has hosted everyone from Joy Orbison, Crazy P and DJ Food, to A Bad Cavalier, The Emerald Armada and DJ Marion Hawkes (GIRL/Ponyhawke). Discerning promoters and sharp-as-a-tack scheduling aside, USC boasts one of the downright cosiest and welcoming interior of any music-orientated venue here. Big talk? No at all. Pop in any time; you're guaranteed something special.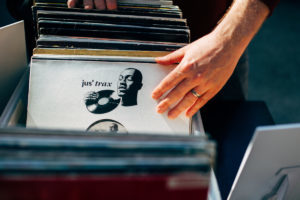 Strange Victory Records
What is a city without at least one great record shop? A city in dire need of at least one great record shop. Over the last couple of years, Belfast has lost two much-loved wax dispensaries: Sick Records and Head Records. Luckily, earlier this year, the city was thrown a major lifeline when Strange Victory Records opened on Berry Street, just around the corner from Kelly's Cellars and Castle Court. The brainchild of Darren Smyth of local promoters par excellence, Strange Victory, Jeff Doherty of Belfast's Dragon Records and Sinead Green, it's Belfast's indie store stocking new releases alongside a plethora of curiosities and classic used vinyl. An essential stop in any music lover's visit to the city.
AVA Festival
The fast rise of AVA over the last five years has been nothing short of a joy to behold. An audio visual arts festival & conference that, in their own words "celebrates, amplifies and develops" the strong current of electronic music and digital visual arts here in Northern Ireland, it's leapt from being the first ever grassroots electronic music and visual art festival in Belfast to a genuinely world-beating proposition. At the heart of its implicit manifesto is promoting equivalence: by showcasing some of the very best homegrown talent alongside the best international artists, it shines a light on the extraordinary wealth of producers and DJs that we can call our own. Curiosity piqued? It will return for its sixth outing at S13 Warehouse on Boucher Road next May.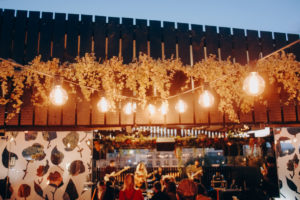 Output Festival
Back in February, Northern Ireland's largest annual music conference and free music showcase Output Belfast returned to Belfast for its fifth annual outing. As well as its always-engrossing daytime conference including panel discussions, music sessions, workshops and speed networking events from various artists, managers and industry figures,  the evening aw a series of collaboratively-curated showcases pop up in venues right across the heart of the city (our Lobby and Courtyard played host to memorable sets from the likes of Blue Whale, HEX HUE and Ex-Isles.) Best of all, it's all free? Keep your eyes peeled for 2020.
Black Box
Long a cornerstone of the city's popular Cathedral Quarter, a mere stone's throw from Bullitt, resides the Black Box. At the heart of its enduring appeal is, without question, the versatility of its rotating programme of events. Across two rooms – its 240-capacity main room and the small, wonderfully snug Green Room – it's a venue and bar that plays host to everything from music, theatre, poetry and comedy to film, visual art, circus and cabaret. Not least as a charity, extremely invested in the city's creative landscape as a whole, Black Box is a venue where you're sure to stumble upon something different, every time.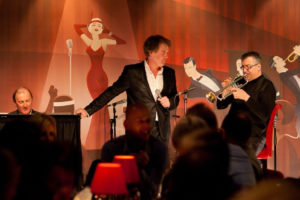 Bert's Jazz Bar
Much like record shops, a city bereft of a jazz bar simply won't do. As well as serving mouthwatering dishes and a handpicked menu of cocktails in its snazzy Art Deco environs, Berts Jazz Bar on Skipper Street is as reliable as they come. Every night of the week, this city centre institutions plays host to sessions of live jazz from some of the country's finest solosists, ensembles and bands, as well as various special guests throughout the year. It may cater for pumping techno or curveballing experimental rock, but Berts holds it own and then some.
The Oh Yeah Centre Music Bus Tour
Taking in Van Morrison and Cyprus Avenue, Led Zeppelin and the Ulster Hall, David Holmes and Ormeau Road, the old haunts of Gary Moore and far beyond, the Oh Yeah Centre's music bus tour is a dead cert for any and all visiting music lovers to Belfast. The jewel in the crown of the Oh Yeah Centre, which stands proud on Gordon Street as Belfast's dedicated music hub, this two-hour tour zig-zags across the city to deliver an up-close and personal account of our rich musical heritage right across the decades. Engaging, affordable and downright inspiring, it takes place once every month. Go here for more info.