Kamayan Feast Night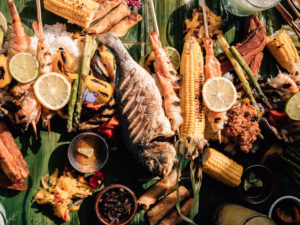 Kamayan Feast Night
Location: Babel Rooftop Bar
Date: Wednesday 30th OCtOber
Time: 7pm
Join us on Wednesday 30th October for a Kamayan Feast Night at Babel! This traditional Filipino feast features an epic array of mouth-watering food piled high on banana leaves and eaten with your hands! Think fried fish, shrimp, barbecued chicken skewers, crispy pork, spring rolls, fresh vegetables, rice and plenty of dipping sauces, along with three tropical cocktails to wash it all down!
Alongside a mountain of delicious food, Kamayan Feasts are all about bringing people together! It's 100% Instagrammable, but once you've snapped a few great photos it's time to put your phone down, get stuck in with your hands, share some tasty food, talk, eat, drink and enjoy!
Price: £35 per person which includes three cocktails per person.
Bookings: Please contact reception@bullitthotel.com to book your place.