Chef's Table with Estrella Inedit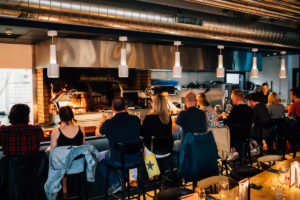 Chef's Table with Estrella Inedit
Location: Taylor and Clay Counter
Date: Thursday 21st November
Time: 7pm
Tickets: £35 (includes bottomless beer)
Join us for our next Chef's Table at the Taylor & Clay counter and enjoy six tasty courses all washed down with bottomless Inedit – the perfect beer for food pairing.
For our November edition of Chef's Table we're shining a spotlight on some of the amazing, locally-sourced beef we have on offer at Taylor & Clay Grill – from classic cuts to some special surprises! We're keeping our meaty menu under wraps until the night when all will be revealed by our chefs as they guide you through the innovative ingredients and preparation of each course – all cooked to perfection on our bespoke Asador Grill!
Your beer for the night will be Inedit Damm, specially created by award-winning chef Ferran Adrià to pair with a wide variety of culinary creations.
This intimate event seated right at the Taylor & Clay counter has a very limited number of seats available.
Price: £35 per person (includes bottomless Inedit Damm beer)
Date: Thursday 21st November