Chef's Table with Estrella Inedit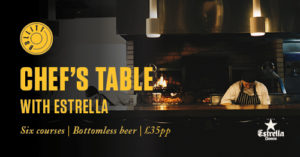 Chef's Table with Estrella Inedit
Thursday 25th July at 7pm
Tickets: £35
From Trinidad to Barbados, Jamaica to Cuba, there's more to Caribbean cuisine than delicious jerk chicken! Join us at the Taylor & Clay counter for six tasty courses featuring fiery flavours, subtle sweetness and tropical tang! Enjoy sensational street food staples, classic home-cooked comfort foods and traditional dishes with a twist, all washed down with bottomless Estrella Inedit – the perfect summer combination!
We're keeping the menu under wraps until the night, when all will be revealed by our chefs as they guide you through the ingredients and preparation of each course, all cooked to perfection on our bespoke Asador Grill.
This intimate event around the Taylor & Clay counter has a limited number of seats available. Email taylorandclay@bullitthotel.com or call us on 02895900600 to book!